Accounting and invoicing of a limited company is easy in the UKKO Entrepreneur service
UKKO Entrepreneur is a financial management solution designed for independent entrepreneurs, where a limited company's accounting, invoicing, financial statement and everything necessary is managed through one service.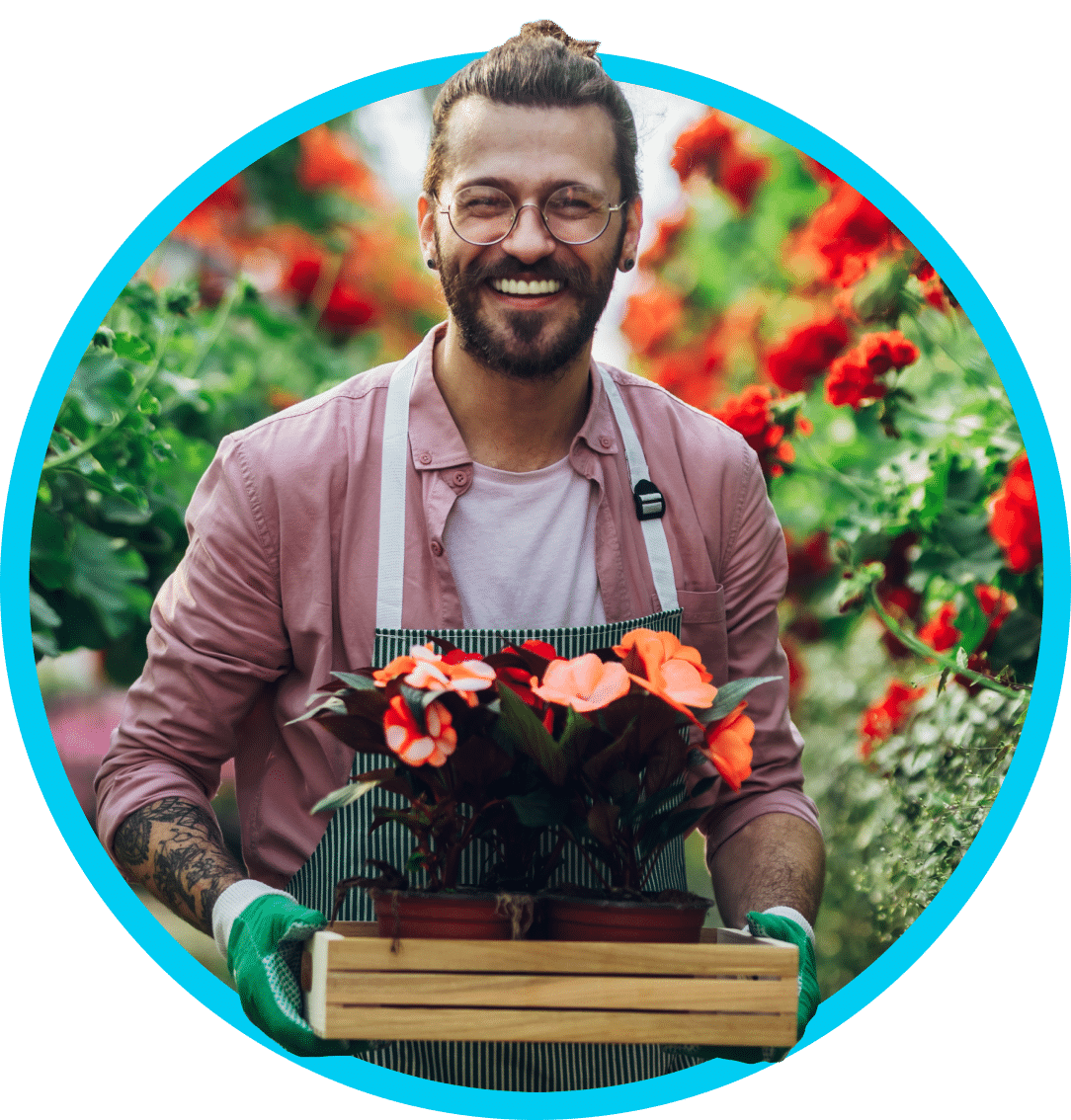 Accounting and invoicing service for a limited company designed for entrepreneurs, with which you take care of everything you need without surprise costs
The UKKO Entrepreneur service includes everything from invoicing to accounting, financial statements and payroll for the entrepreneur's salary. Let us make your entrepreneurship easier for you.
You can establish a limited company conveniently when registering
Setting up a limited company couldn't be easier! You only fill in the necessary information, and the foundation documents will be sent to the Finnish Patent and Registration Office for approval.
When starting a company through the UKKO Entrepreneur service, you immediately get all the necessary financial management tools at your disposal.
When setting up, you only have to pay the trade registration fee; if the establishment is done electronically, the fee is 240 euros, and if it is done using a paper form, the fee is 380 euros. You can deduct the payment as a business expense immediately after establishment.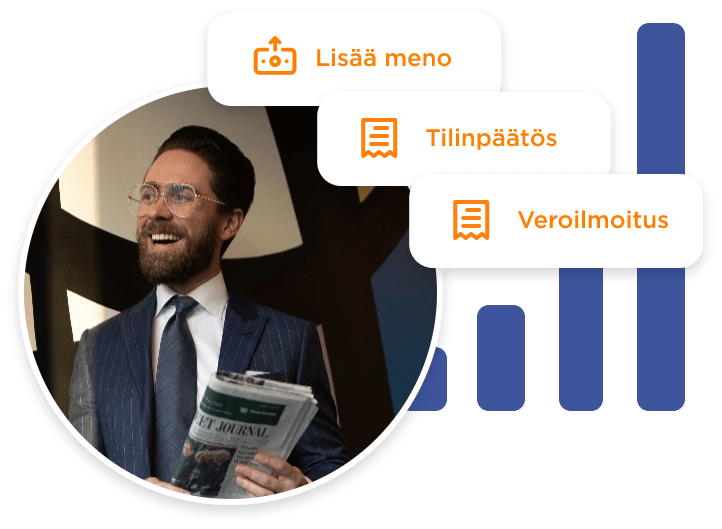 No surprising additional costs, e.g. you get all this for a fixed monthly price:
Unlimited invoicing
Automatic reading and storage of receipts
Accounting
Financial statements and tax returns
Entrepreneur's payroll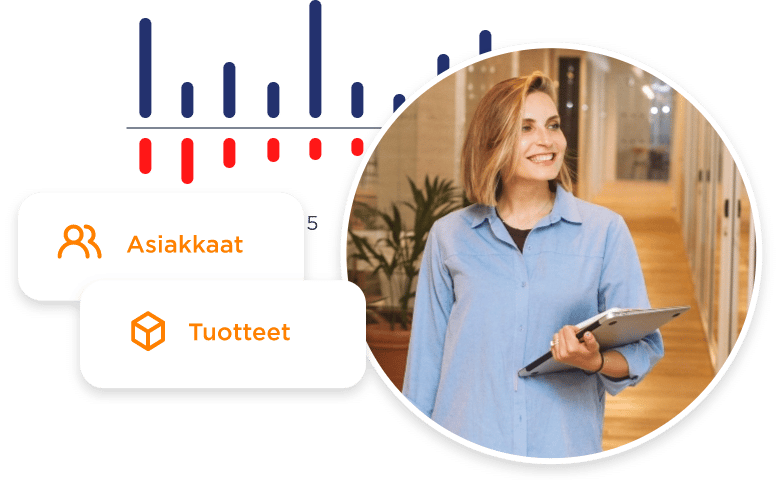 UKKO Entrepreneur is best suited for small specialist companies
The service is designed to best serve entrepreneurs who want to easily invoice for their own expertise and don't have employees.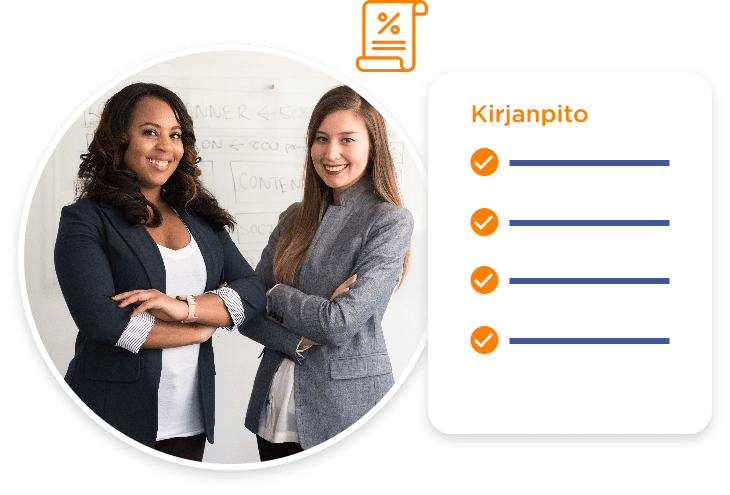 Do you already have a limited company?
If you already have a limited company with previous accounting records, please contact our customer service in this case.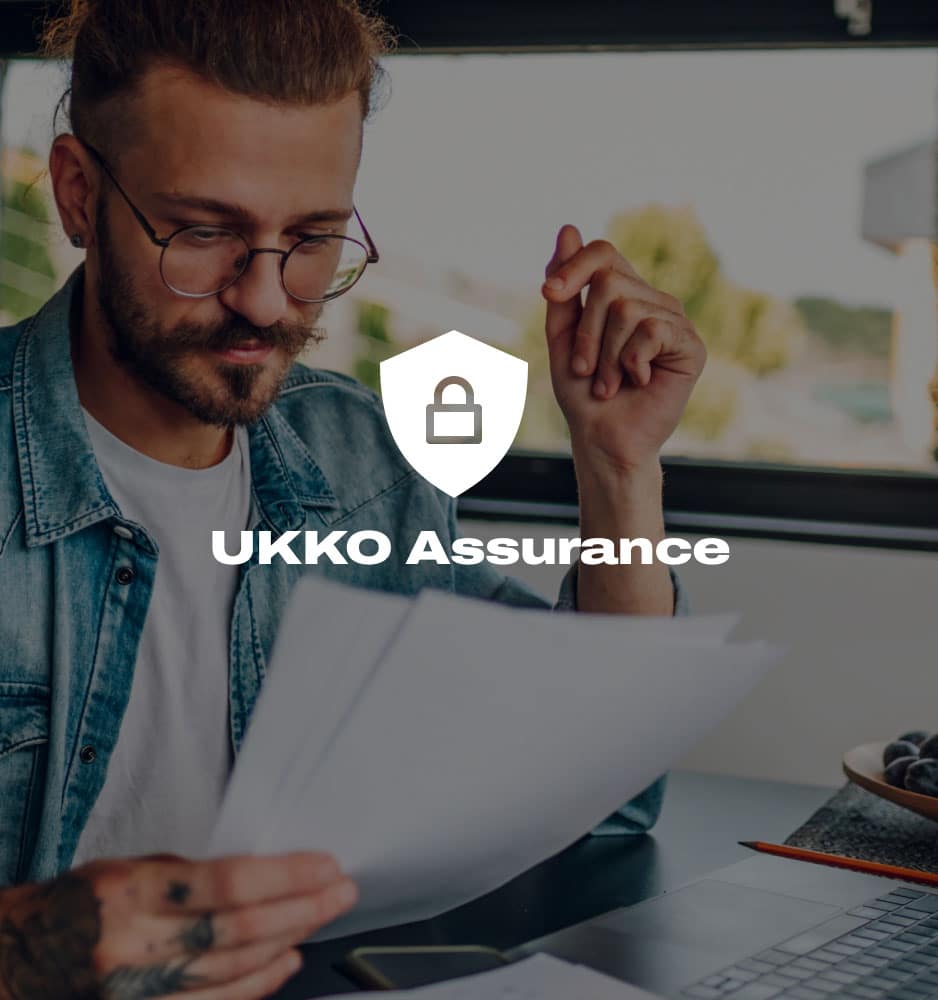 UKKO Assurance – so that no limited company entrepreneur is left to their own luck
FULL UKKO ASSURANCE FOR A LIMITED COMPANY ONLY 30 €/MONTH
UKKO Assurance is a comprehensive insurance for entrepreneurs. It helps in many situations, such as agreeing on valid assignments or accidents or damages that occur at work.
Insurances: accident insurance and liability insurance
Agreement template library
Powers of attorney's and documents
Sales school and marketing school
Other benefits, e.g., car rental companies and offices
UKKO Assurance is available to all registered users. UKKO Assurance is activated from the UKKO Assurance tab within the service.
What does the UKKO Entrepreneur service include?
You know what you are paying for and what is included in the price – no surprise costs
Our affordable monthly price includes the limited company's accounting, invoicing, authority notifications, financial statements, payroll of the entrepreneur's salary and other handy features that facilitate invoicing, adding receipts and monitoring your finances.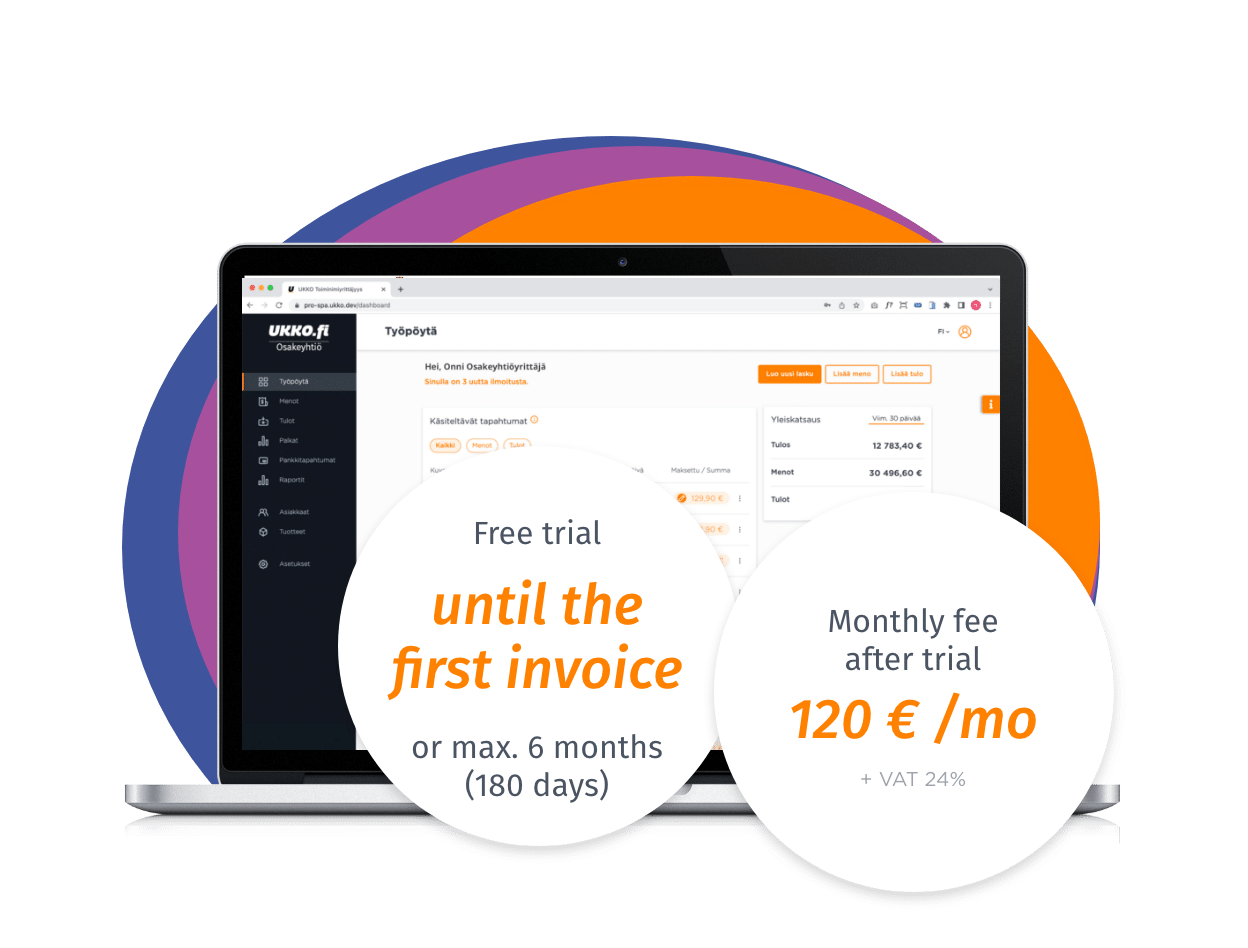 Starting entrepreneur: you only pay for the service when you send the first invoice
We want our pricing to support small entrepreneurs starting out. As a new entrepreneur, you can use our service for free for up to six months. You don't have to pay anything unless you invoice your customers or generate revenue during that period. We want to encourage entrepreneurs and have therefore made the initial steps as easy as possible for entrepreneurs.
If you establish a new limited company, you will only have to pay an official fee at the time of establishment; it is 240 € for an electronic establishment and 380 € for a paper form. You can deduct the payment as a business expense immediately after establishment.
This is how easy it is to establish a limited company in UKKO Entrepreneur service: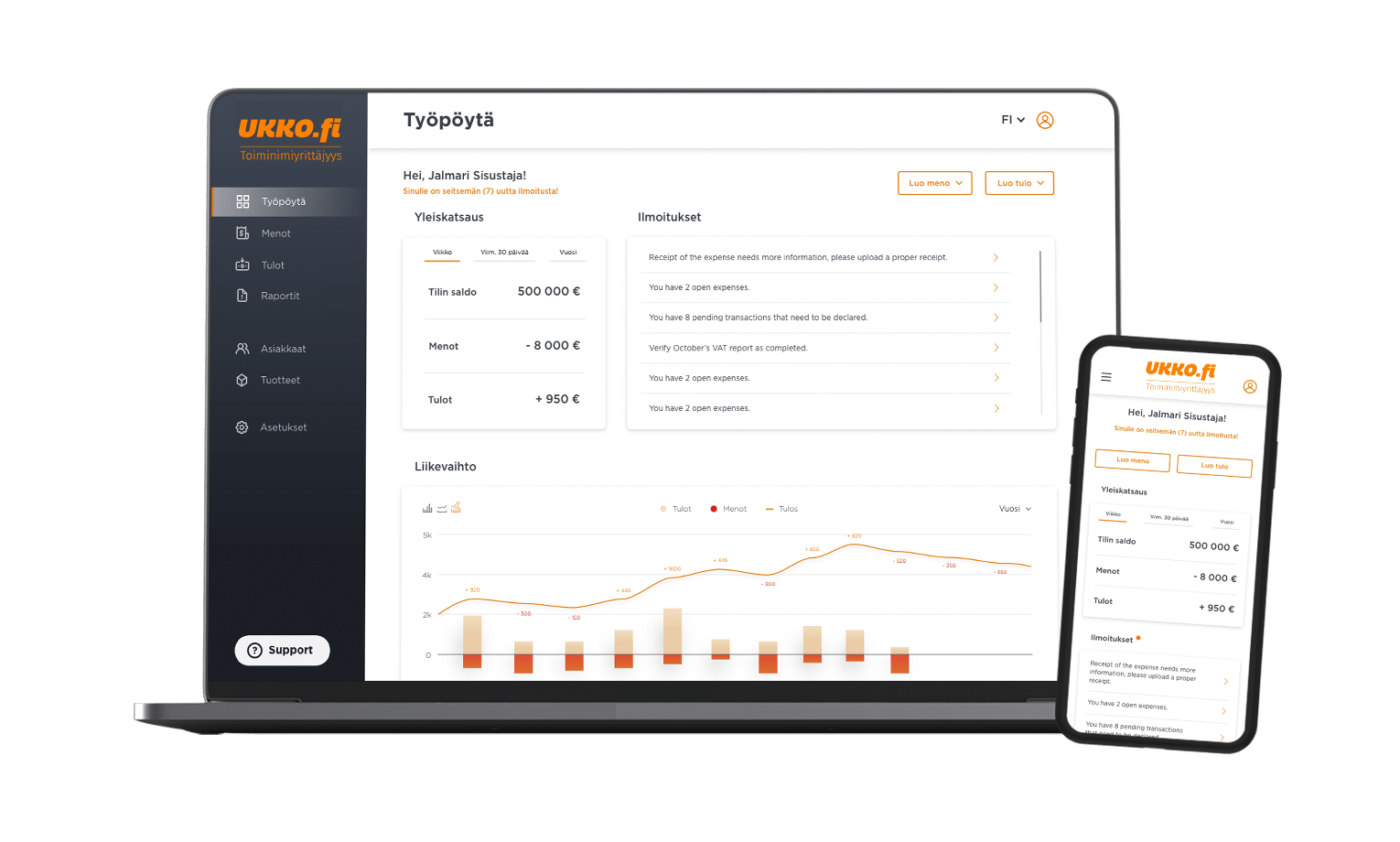 Focus on your business – don't worry about financial management
We offer you a hassle-free and fast way to create and send invoices in the same service. You receive all your invoices conveniently in one place, so all you need to do is add your receipts to the service easily as images. Your accounting takes care of itself while our experts and accounting professionals ensure its accuracy. This is how easy corporate financial management should be!
Our service leverages modern technologies such as machine learning and automation, but ultimately, our experts ensure that your accounting is in order. You can also get assistance from us on accounting and financial management matters – our experts provide guidance completely free of charge.
Contact us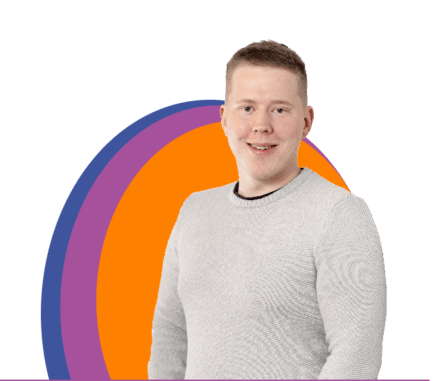 Jimi Forsman
Sales Representative
+358 50 434 7273
jimi.forsman@ukko.fi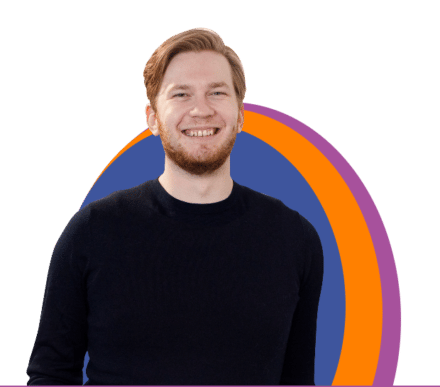 Miro Tiala
Sales Representative
+358 50 460 2442
miro.tiala@ukko.fi