UKKO Entrepreneur – The easiest tool for managing day-to-day operations
UKKO Entrepreneur will make your entrepreneurial path easier. It's a reliable tool that carries with you as a private trader or limited company entrepreneur, where you can find everything you need regarding to your bookkeeping or invoicing.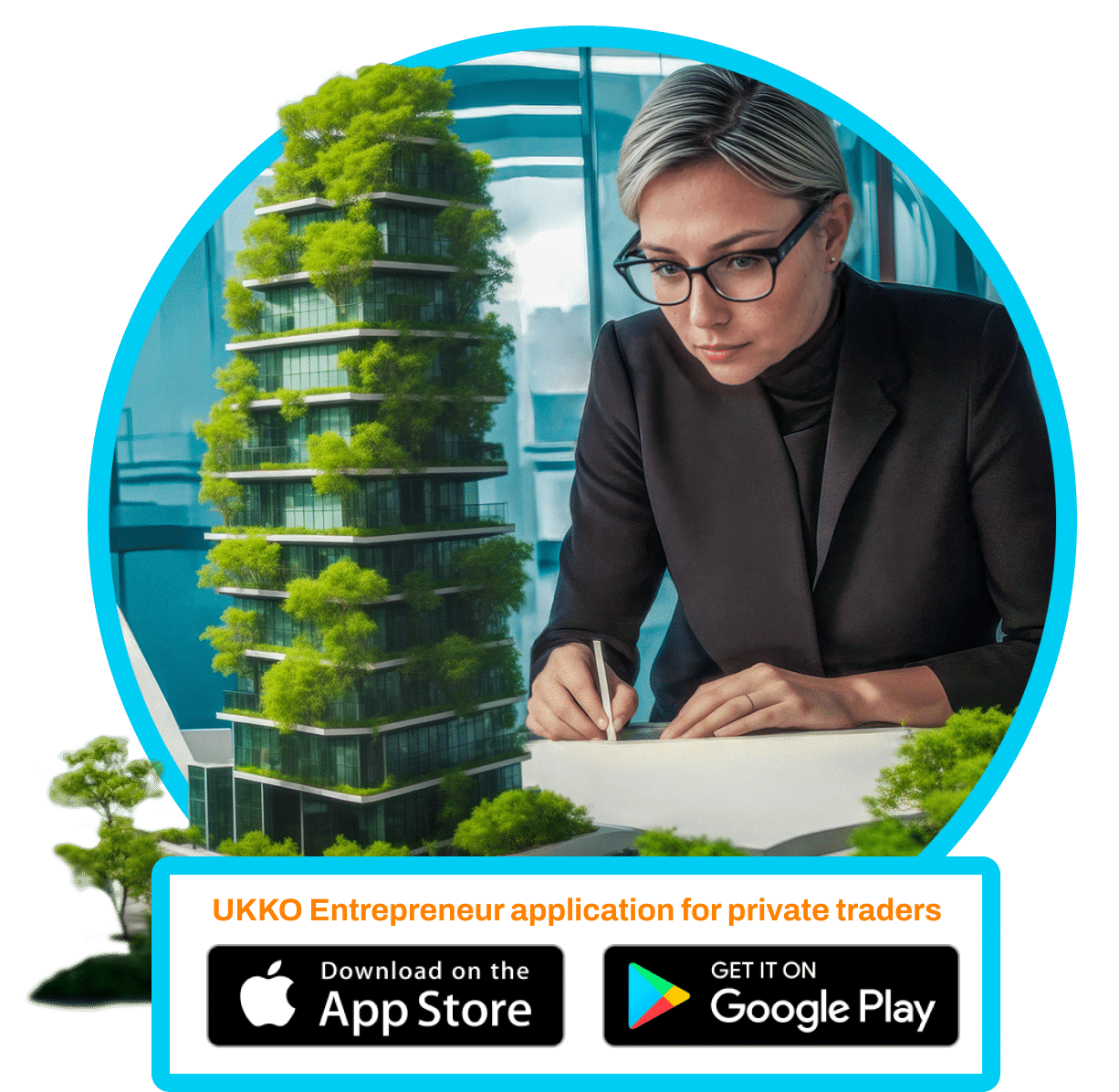 Why UKKO Entrepreneur is better than a bookkeeper?

A fixed cost, you know what you pay for
UKKO Entrepreneur's monthly fee includes everything you need to manage your company's finances. No surprising extra costs!

Tax returns are included in the service
Regardless of the service fee, the service includes all features, from unlimited invoicing to VAT and tax returns.

A service designed for the needs of an entrepreneur
In the UKKO Entrepreneur service, you don't pay for nothing. The service is designed perfectly for the needs of an entrepreneur – as a simple and easy tool for you.
Invoice easily, keep your accounting and receipts safe – UKKO Entrepreneur is suitable for a private trader and a limited company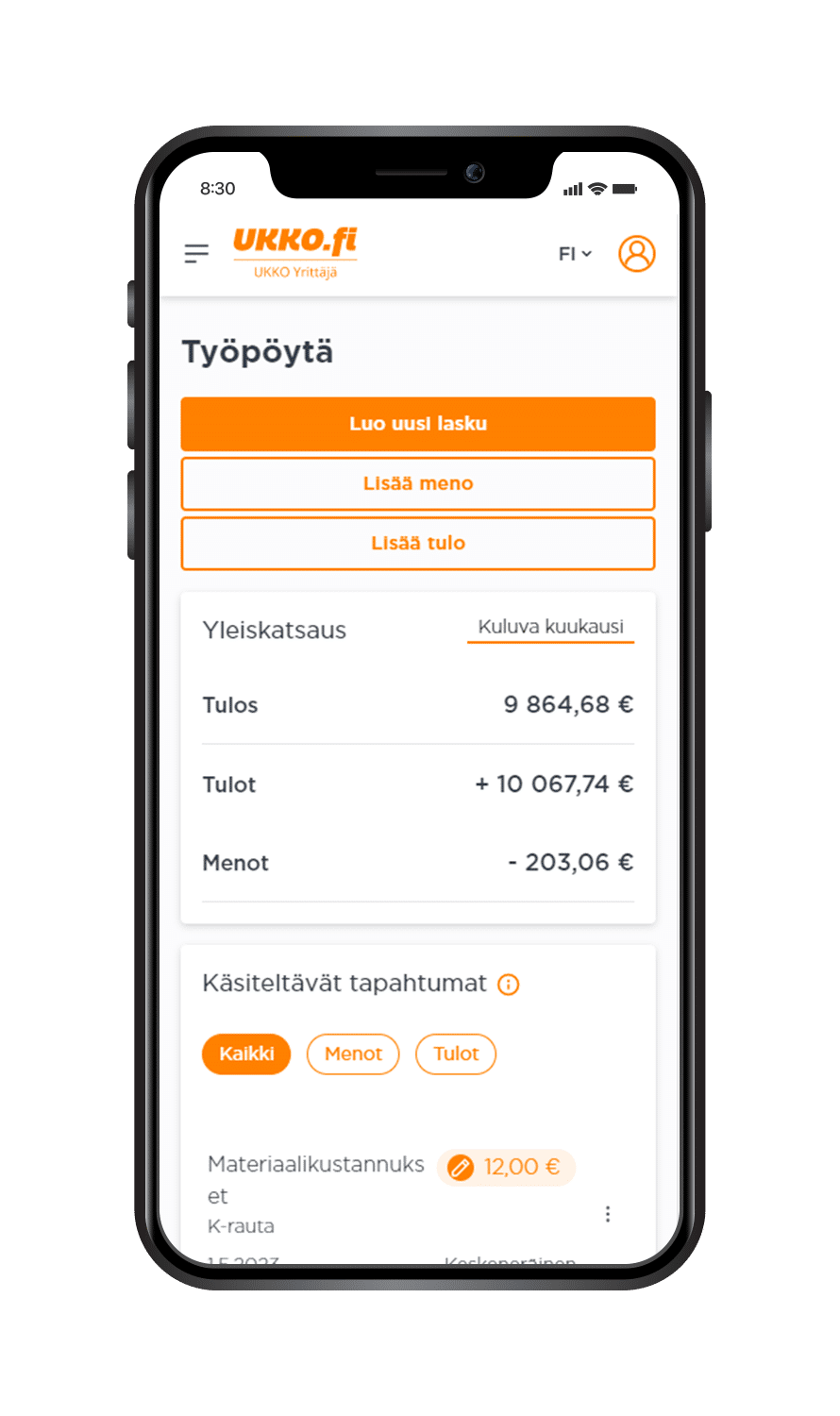 UKKO Entrepreneur for a private trader
You get to use the private trader's digital financial management, you save time, and you always see the real-time financial situation of your company. As a new entrepreneur, we will set up a business ID for you free of charge, or you can register with your existing business ID.
In the service, you create and send unlimited number of invoices easily and quickly. You also receive all invoices in the same place, so all you have to do is add the receipts to the service as photos. In addition to bookkeeping, we prepare VAT and tax returns as well as the private trader's income statements for you!
Private trader's accounting and invoicing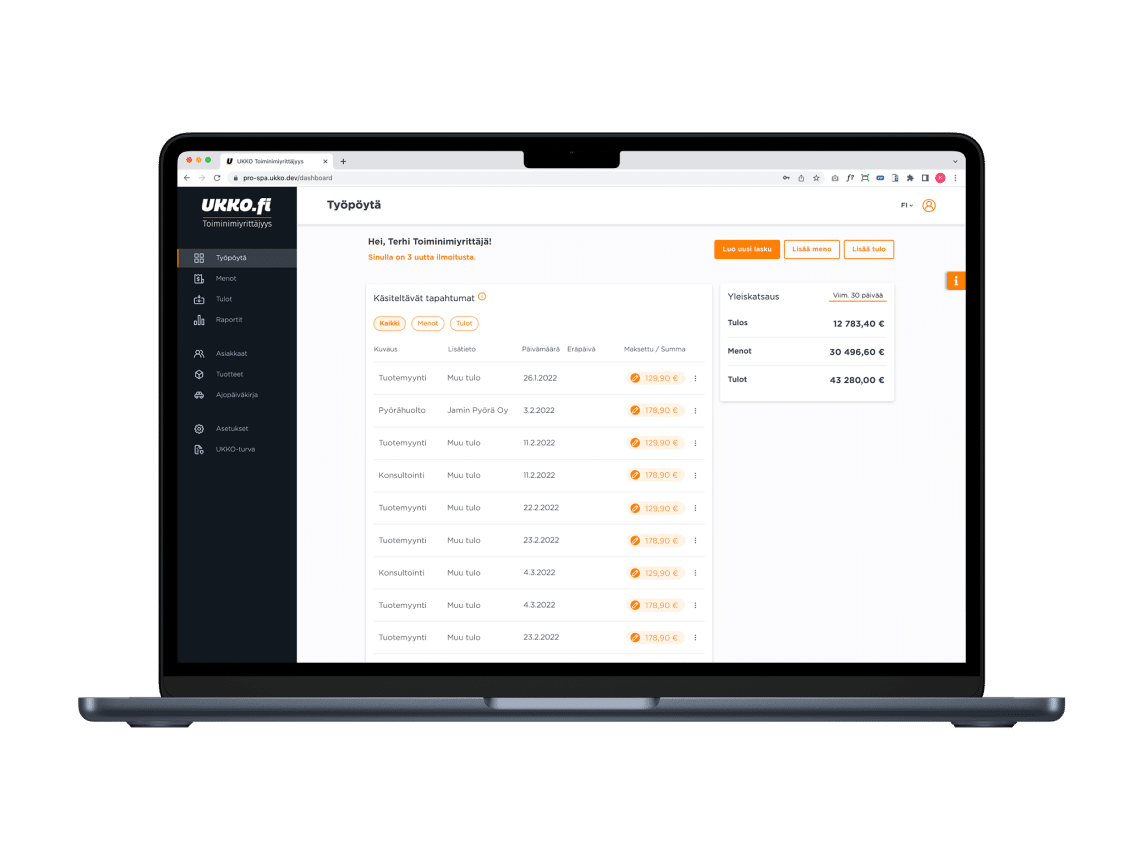 UKKO Entrepreneur for a limited company
You can now get the entire limited company's financial management, from invoicing to accounting, through one service. We can help you change bookkeeping firms, or you can easily establish a limited company during registration. You just fill in the necessary information, and the foundation papers go to the Finnish Patent and Registration Office for approval.
The service includes the accounting of the limited company, unlimited invoicing, official notifications, financial statements, payment of the entrepreneur's payroll and other features that make everyday life easier. It is best suited for an entrepreneur who invoices for their own work.
Limited company's accounting and invoicing
Fixed price, no surprise costs
UKKO Entrepreneur for private trader
MONTHLY FEE AFTER THE TRIAL PERIOD STARTING FROM 22 € / MONTH + VAT 24 %
With the UKKO Entrepreneur service, you get all the tools of an entrepreneur at an affordable price! No per-piece fees or other surprises.
The affordable monthly price includes accounting for a private trader, invoicing, official notifications and other smart features that make invoicing, adding vouchers and monitoring your finances easier.
UKKO Entrepreneur for a limited company
MONTHLY FEE AFTER THE TRIAL PERIOD 120 €/MONTH + VAT 24 %
We want our pricing to support small entrepreneurs starting out. As a new entrepreneur, you can use our service for free for up to six months. You don't have to pay anything unless you invoice your customers or generate revenue during that period.
Our affordable monthly price includes the limited company's accounting, invoicing, authority notifications, financial statements, payroll of the entrepreneur's salary and other handy features that facilitate invoicing, adding receipts and monitoring your finances.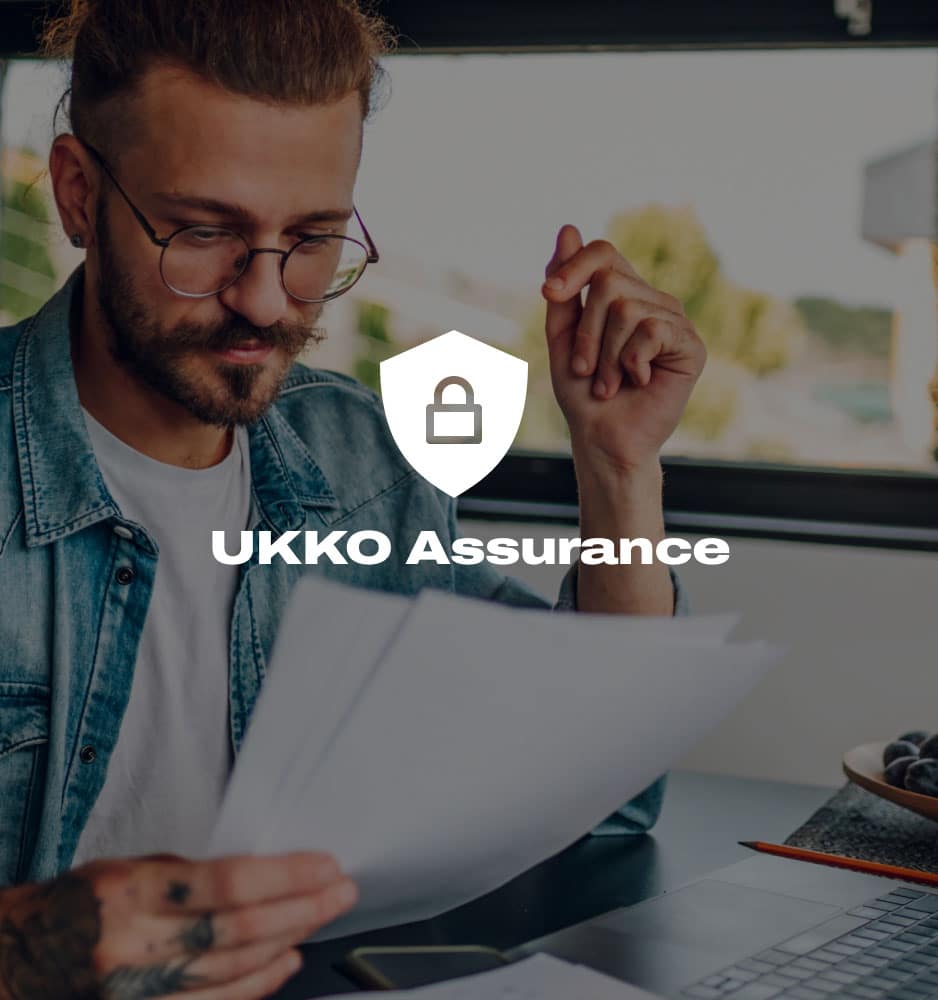 UKKO Assurance – so that no entrepreneur is left relying on their own luck
UKKO Assurance is a comprehensive insurance for entrepreneurs. It helps in many situations, such as agreeing on valid assignments or accidents or damages that occur at work.
As a responsible operator, we want to ensure that we provide our users with the best conditions to operate as an entrepreneur within the framework of laws and regulations, safely and of course reliably.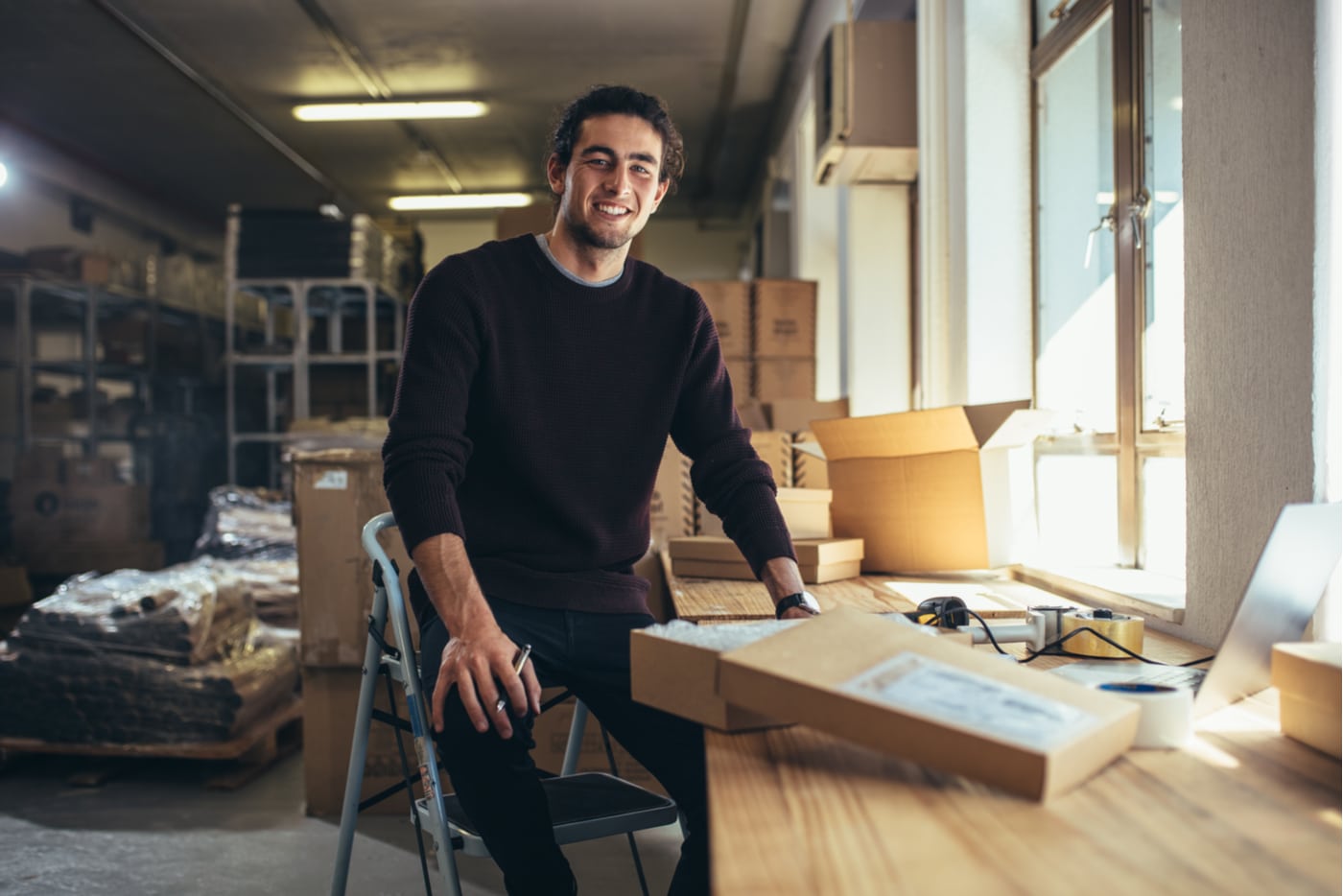 93%* of our customers have been satisfied with our customer service
Our competent customer service and financial administration are always at your side, both online, on the phone, and via e-mail. We make sure that your entrepreneurship doesn't stop at the wheel of bureaucracy.
Do the same as thousands of other entrepreneurs: Transfer your bookkeeping to us and enjoy the true freedom of an entrepreneur. Focus on your own work and grow your business. That is our common goal.
* UKKO.fi's user satisfaction measurement, where all customer service contacts were measured