Try the renewed
UKKO Light Entrepreneur
service!
We are renewing the UKKO Light Entrepreneur service to be more service-oriented, functional and user-friendly for you. The development of the service continues and we welcome feedback.

The same username and password apply to both the renewed and the old service.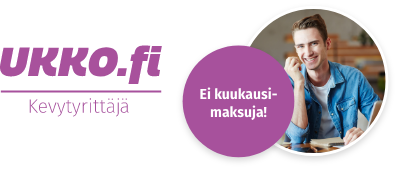 Laskuta tekemästäsi työstä yksityishenkilönä ilman omaa Y-tunnusta.
Et tarvitse omaa Y-tunnusta
Sopii satunnaiseen oman työn laskuttamiseen
Rahat nopeasti tilille
Sopii myös liikeidean testaamiseen
Rekisteröityminen ja laskun luonti 0 €
Palkan nostamisen yhteydessä palvelumaksu 5 %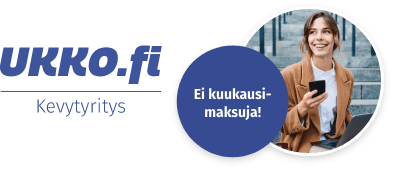 Laskuta ketterästi kuin kevytyrittäjä, Y-tunnuksen tuomilla mahdollisuuksilla.
Y-tunnus ilmaiseksi
Voit vähentää yrityksen ostot verotuksessa
Voit saada rahaa takaisin ALV-alarajahuojennuksen takia
Voit myydä oman työsi lisäksi myös tuotteita
Yrityksen perustaminen ja laskun luonti 0 €
Kun asiakas maksaa laskusi, palvelumaksu 5 %
Private Trader Customer Service
Mailing address
SLP Pro Oy/UKKO Toiminimiyrittäjyys
Itämerenkatu 1, (5krs) 00180 Helsinki
Business information
SLP Pro Oy
(Business ID 2855313-3)