UKKO Light Company
The new form of entrepreneurship is here! Your own Business ID for casual entrepreneurship. Register for the service and get the benefits of the Business ID.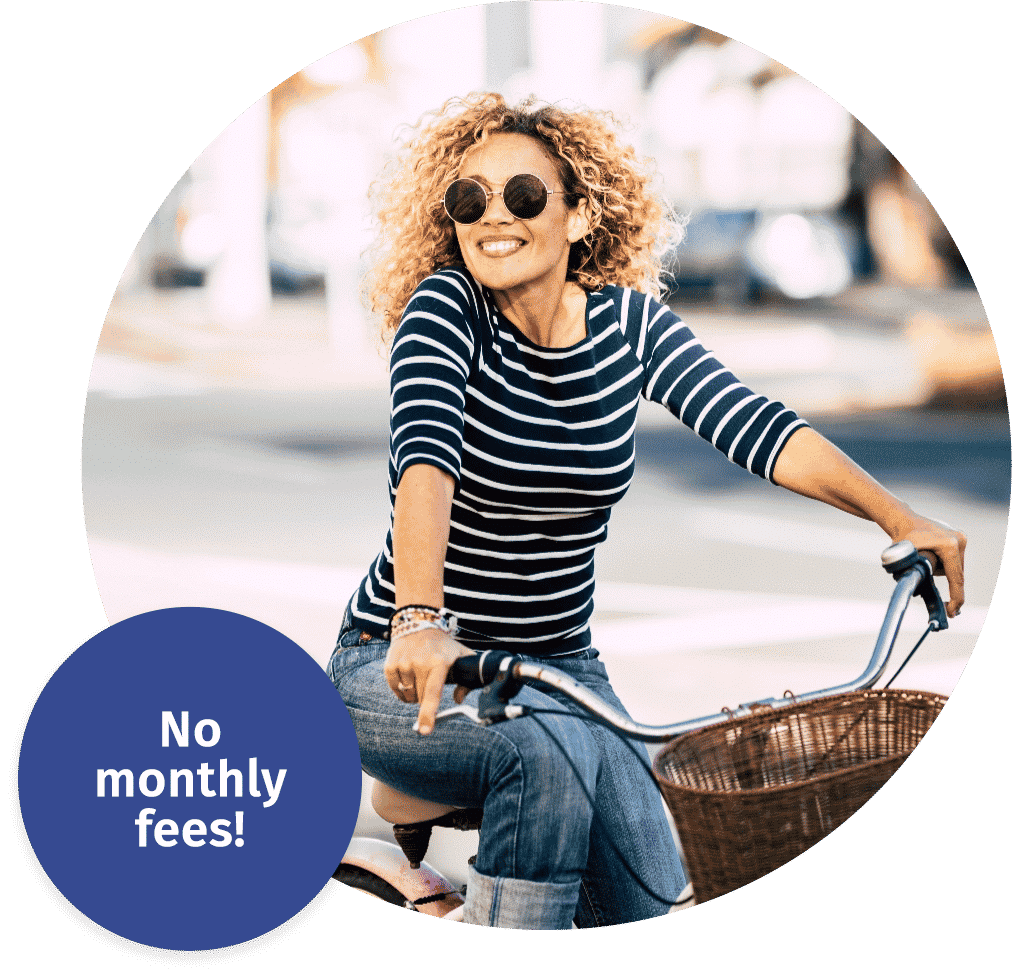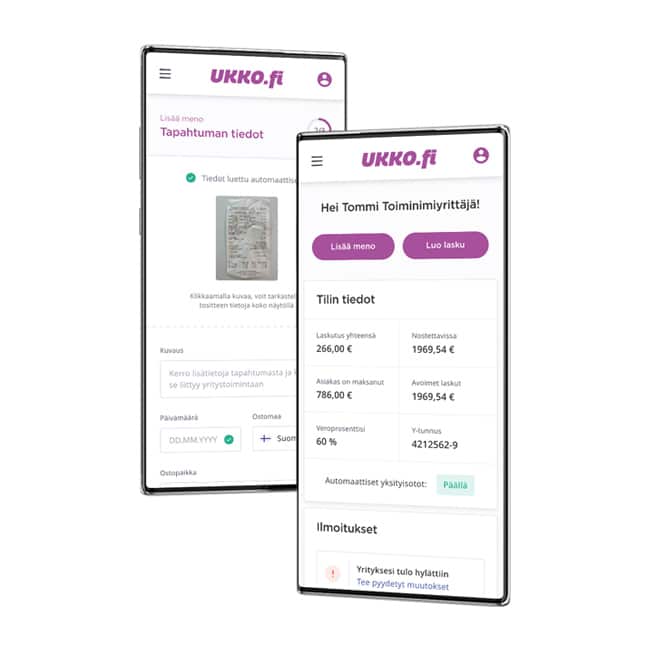 UKKO Light Company
With UKKO Light Company, you are able to invoice as agilely and flexibly as a light entrepreneur, but you have the same possibilities as a private trader. In a few minutes, you will receive a business ID that allows you to
Save money by deducting tax on your business purchases
You can get a refund of up to € 3,600 for the VAT reduction if your turnover is less than € 30,000
5% of your income tax-free thanks to the entrepreneur deduction
Opportunity to sell products as well
Opportunity for start-up grant
The service still allows you
The opportunity to act and invoice occasionally and when it suits you
Pay only for the use of the invoicing service – there are no running costs
UKKO Light Company is now open
The new form of entrepreneurship is here! Register for the service and get the benefits of the Business ID.
No running costs! Pay only when you use the service
Starting a business and creating an invoice 0 €
Registering for the service is easy. We'll set up your business ID for free in minutes.
Once you receive the ID, you can immediately create invoices for your customers and add the cost receipts related to your business on the service. We do not charge separately for adding receipts.
You are always insured with UKKO Assurance (accident and liability insurance).
About invoicing 5 %
The service charge of 5 % of the invoice will be withheld when the customer's payment is logged.
The remaining portion is also affected by the UKKO Assurance of 3 %, VAT and withholding tax according to your own tax rate.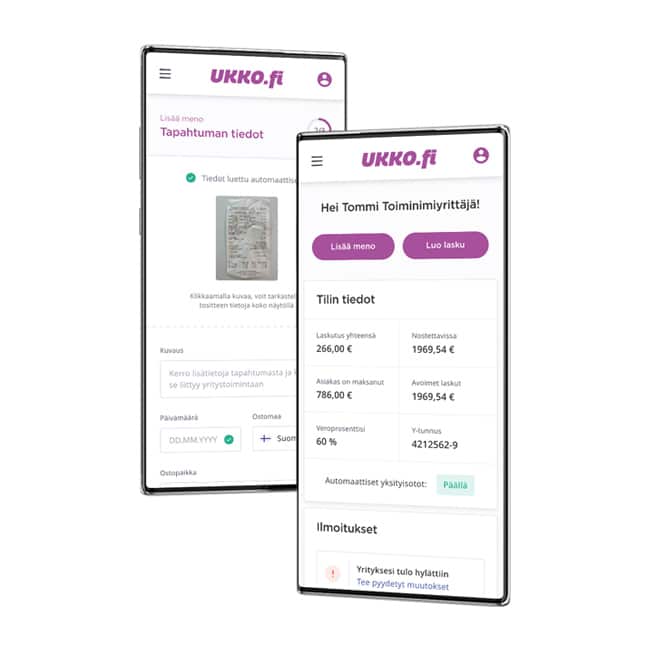 Business ID of your own – lightly and effortlessly
Is your business occasional and you wouldn't want to pay for running costs? The pricing of the service is familiar from UKKO Light Entrepreneurship, so you only pay on a percentage basis when using the service.
Do you want to take advantage of the tax benefits brought by the Business ID or do you dream of selling products, but at the same time want to maintain the ease of business?
In that case, UKKO Light Company is a great option for you.
UKKO Light Company is a new business service that ranks between light entrepreneurship and private trader.
UKKO Light Company combines excellent opportunities from both types of companies. The service is suitable for new businesses that do not yet have a Business ID.
1. Do your work
2. Create an invoice
3. Withdraw money
Work when it suits you, without long-term commitments. We do not charge separately for sending an invoice or handling work-related expenses. Registration is completely free.
Start now!
Do you have anything to ask?
We've gathered answers to many of the most frequently asked questions for entrepreneurs here, so please read on!
If you did not find the answer to your question, please contact our customer service. We will be happy to answer your questions and help you move forward!